Today was a lovely day off. Summer tinged with Fall, the tips of the Japanese maple in my neighbor's yard ever so slightly gone reddish-yellow.
We biked along the Greenway Trail, I think that is what it was called, leaving the industrial downtown in minutes and finding ourselves along the smaller, quiet Willamette south of Portland. A carnival went on across the river, the shouts of those on rides carrying over to the west side. Home to a shower. I cleaned beads, cracked a focal, darn it. I want that focal. Tempted to try again tomorrow, even though I need to make one or two more pieces of kilnformed glass. Oh, for another kiln!
But over the weekend I took my Green Lagoon focal and made magic. It will take a lot for me to sell this one, as I do love it so.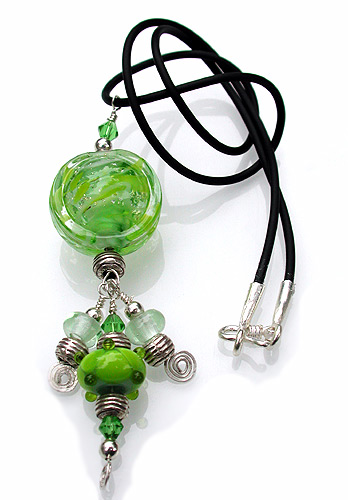 Green Lagoon Necklace
DLJ made oatmeal cookies, the cats rolled in the sun, I read "Reading Lolita in Tehran" on the deck with a kir in my hand. Cats, wine, books, sunshine, husband nearby. What more do I need? I was so content, just so happy with what I had, what I was doing, what life was. A glass artist resting in the late summer afternoon, with the freedom of time to relax, a handmade glass goblet holding my white wine and creme de cassis…
Bliss. So little is needed for bliss. And the children growing up now don't see this…consume, consume, consume.
Not me. Not anymore.