Day 4. Train to Kyoto.
Note: I am a little distracted and sad as I write this. Mu, the dog of the fine folks J and M we stayed with in Japan, died within 24 hours of our leaving. I feel really sad that perhaps we kept them from being with her as much as they could her last week, or that we prevented them from taking care of her by trying to keep us happy and amused our last day and and a half in Tokyo. Mu was a darling dog and we loved living with her for the days we were there. She was old and definitely acting sick by Friday evening. It was apparent things were not right all week, but she was still happy, and having not known her previously, I had no way of knowing how sick she was. =( I am so glad we got to meet her, her tail thumped everytime we got near and she was a happy, good dog. But I feel really bad we were in the way in such a time. I knew she was really sick by Saturday morning, and I know M was especially distracted. I didn't say a word as I understood completely, for both of them, though perhaps I should have said that "not being on best behavior in front of us was ok." What was wrong with her was serious, I don't know if any medical help could have done anything other than prolong her agony…but I still feel very sad. I am glad though, that her decline was very rapid at the end, and she had a fun last week filled with lots of attention, love, and crazy Americans come to visit her. DLJ took two cute photos of her but I am hesitant to post them until J and M are feeling better, and are ready to see it should they read my entry.
J took us to the main train line Wednesday morning for our two day sojourn to Kyoto, and we waved as we went through. In our day bag was enough clothes to get us back, the computer, some books and a handy package of directions and notes provided by J and M. We stopped and bought bento boxes from a small vendor before climbing aboard. We got on a car that was non-reserved, but smoking. UGH! DLJ found a seat and I was off immediately to check if there was such a thing as a non-smoking non-reserved car. Two cars up, there was. I came back and got him and we fled the smoke-soaked cars. Even after only being in there a few minutes, it took more than a half hour for my hair and clothes to air out. We sat on the right side of the train; if it was clear we would be able to see Fuji-san, the fabled mountain of Japan.
The trip to Kyoto was about three hours at most on the shinkansen, or Bullet Train. And it was FAST. Eventually the thought crossed my mind how obliterated we would be if it went off the tracks while rocketing at full speed. Of course, such a train is connected to the tracks way more firmly than would ever let that happen. But it was the first train I had been on where the train seriously banked on turns, causing the world to come in at a slant. as if all the construction occured leaning downhill.
Finding the hotel was more difficult than it should have been, simply because the station was so LARGE. We walked around a block we didn't have to to get to the entrance, but no harm done. We checked in and went up to our room on the 9th floor. It had a large bed, tea, a radio in the headboard, slippers, and a full bath complete with crazy toilet and fully-stocked bathtub.
I really wanted a nap but couldn't fully fall asleep.
So instead we wandered out into Kyoto. We were trying to find the tourist office which literally took an hour to find, as the info we had was several years old. Instead of an obvious streetfront it was on a top floor in a large mall in back, boring corridors. I was pretty frustrated but it was worth the maps we got in the end, and we set out to try to find a temple. This wasn't hard. In Kyoto temples and shrines are everywhere, like Starbucks in America.
But after a few blocks, DLJ started looking at the map and being confused. I stopped a young guy on a bike and managed to get him to point where we were now…exactly 180 degrees opposite of where DLJ thought we were. But ahead of us, what do you know! A large temple! So we went in, and we scored jackpot. It cost us about 500 yen each to enter, but inside was amazing! Acres of grounds of gardens, the largest pagoda in the town, it was huge! And large lecture buildings filled with gold statues of the Buddha, the Gods of War and the Guardians. Everything was so large, and quiet. We strolled around until the place closed at 5, then wandered the backstreets back to our hotel, finding small shrines and interesting buildings along the way. One very small neighborhood shrine was tucked away, helter skelter and had a cute black cat sitting inside. Some of our best findings in Japan were those we got just by taking a stroll.
Our feet were TIRED when we got back. Everyday we walked so much, we always had foot fatigue by day's end.
Back to the hotel, still no nap.
Instead DLJ and I engaged in some couple-monkey business as we had been on best behavior at our friends' house.


I then took a much-needed bath, soaking in the tub and relaxing. The room had Japanese style robes, I tied one around me after the bath and we hung out for an hour before figuring out dinner. We had had a place recommended to us but we were so tired, and it was 20 minutes at least by public transit to get to, once we figured out at the front desk where it was. So instead we opted for the top floor bunch of restaurants in a nearby mall at the train station. The whole area was called The Cube. There were so many choices of varying price and kind, the train station simply was SO huge, along with the mall that it encased. We chose a place with simple Japanese fair, DLJ had some tempura and rice and I had chilled udon with bonito flakes, shrimp, a raw egg, nori, and daikon radish.
We paid and left and went out another door, and found that a whole outside area of escalators and stairs went all the way back down to street level, as well as one more level up. We went up top and found a rooftop garden area, as well as walls made of glass so that you could look out over the city. We saw the temple with the pagoda, the Kyoto Tower, it was a clear night and very beautiful. Then we took the escalators back down and walked the short walk back to the hotel, where I promptly fell asleep and DLJ watched "Bladerunner" on the computer. All the motorcycles, city buildings and narrow streets got to him, I guess!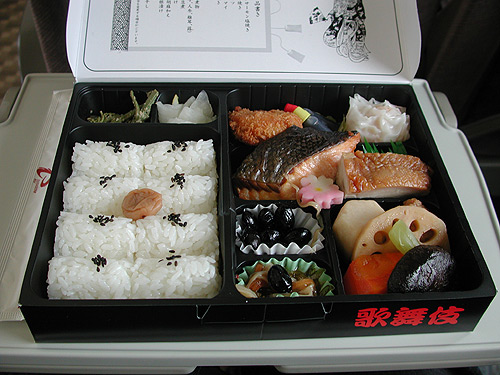 Lunch on the shinkansen (bullet train). This cost 1100 yen.

The pagoda at the first temple we visited. I'll find the name eventually.


A large lecture hall near the pagoda at a Buddhist shrine in Kyoto.

After dinner at the top of the Cube, the largest department store/train station combo I have ever SEEN.

Nighttime shot from the top of the The Cube. The brown glow near center is the shrine with the pagoda we walked to.
Later today I will post some more pictures without trip journal. It's 6:50 AM, I have been up since about 3, but most of that just laying in bed thinking. I'll try to stay awake till normal bedttime tonight.