Well, looks like we have NYE plans. Pink Martini is playing at the Schnitz, a local concert hall where we saw them at their record release party last year. They have two shows and we opted for the actual show that goes past the midnight hour. We bought in the cheap seats, it will still sound wonderful even if we are off to the side. =) It's going to be filmed for a pbs television show later on, and a live DVD, which is freaking awesome that they are doing that. It will be nice for us to be able to relive the show later, but mostly I'm glad they are putting something like that out. It should be the usual fun gig with the Lions of Batacuda and other guests. And as we know, I'm all about Gavin, the trumpet player. He's my favorite Martini.
So that's not a bad year in terms of being able to relive one's entertainment. The DCD CDs are wonderful, two discs from the show we went to in September. I have at least one friend who bought another show, it would be interesting to trade a few songs just to see how it sounded at other gigs, since we each bought one.
Back to work. Good weekend of glass information, but it sure makes it feel like I didn't have a weekend. DLJ did a lot of stuff around the house while I was gone, including putting the trim up in my studio around the door and window. This should the space stay warmer. All that really is left now is getting the final light switch plate in. I can hang curtains once we get a rod, which should also help insulate a little more, and bring a little more of a finished look to the room.
Here's some glass from the weekend. Definitely not the quality I usually show, but that's the point of a class, to push borders. The terraform bead on the right is there to show you the size of bead I usually make, compared to what I was learning this weekend. And I would say mine were about 2/3 the size of Larry's magnificent focals. More later, as I have to pick up the rest of my beads today. I think yesterday's batch, on the whole, were better. I also played with hollow beads yesterday and really learned how to use the Bullseye lustre glasses.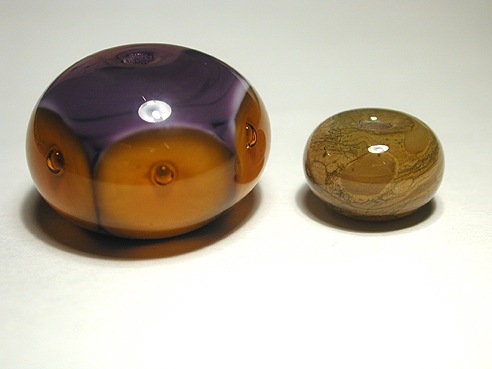 I'm still unsettled about all this travel. It just makes me want life to hurry up and be over past the times of traveling, and that's no way to treat the hours. :/