Monthly Archives:
February 2006
Just a little over a month now, until the Artwalk.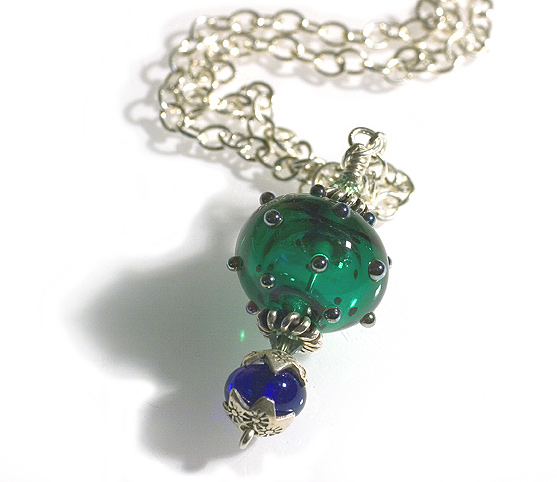 Green Lantern Necklace
The contractors should come today, delayed a day from yesterday. Much as I don't really relish a house full of strangers, they will be good to have around, finally working on removing the mold and making the family room good again.
I need to clean my office. It seems to get messed up quick. A lot of it is file sorting and I don't feel like it, but I must.
Tonight we are having dinner with friends in the city at a place called Lovely Hula Hands. Friends and good food, I am looking forward to that.
Yesterday I went into SE Portland to check out my space for the Artwalk. I love it! It's a Hair Salon in an old house right on Division, a main drag. Ladies getting their hair done on a Saturday, good jewelry spot! I need to churn out a lot this month. I'm almost out of bead release, need to order a giant can of it.
The sky is slightly puffy with clouds today, maybe I can get in a walk. Although I don't know when to expect the contractors, I had better get out of my jammies. Maybe I will actually SIT and have a cup of COFFEE for a few moments, reading some of my Craft Report backissues. Wouldn't that be a sight. I swore I would do things like that…sit and have coffee…hasn't even happened once in a month.

Pool
When I signed up for this class, I didn't realize I would be signing up for a whole student experience. The class does last an entire semester…but oh! I can go in the studio to work at any time, 9 am to 11 pm. There's a cafe that serves lunch and dinner and coffee all the time! A library of resources! So I will be spending a lot more time there than just the 3 hours a week at class.
I love it. That feeling of learning. I always have. This is the first true student-like experience I have had since college.
I have broken two saw blades already. Frustrating to be at the beginning of something…but I was at the beginning with glass, once, too. I have a bunch of tools now, I will need a small tackle box or something to put them in. Wouldn't an exceedingly frilly makeup case be a funny toolkit?
Lots to do today, going to check out my spot for the SE Artwalk in March, glass right now, maybe some more Quickbooks. A walk if it stays non-rainy…yeah, right. Oh, and work to do on Thomas' site.
Contractors begged a day off, delay, so they will be here tomorrow.