Today has been a good day. We woke up and went to the farmer's market, getting fresh strawberry shortcake for me and waffles for DLJ and eating them on a blanket on the lawn. I stopped in the library to get a book, then we came home and did work. DLJ worked on the downstairs room, sanding and priming, and I pruned the rhododendrons, watered everything, cleaned the glass studio and mowed the lawn. Our friend the Mad Martian just came over with his sister, who also does glass and was in town this week taking a class at Bullseye.
It's sunny and warm, later we will go to dinner with an old friend from the dotcom days. He is an amazing artist that we have not seen in years.
I love my macro lens. Here are some beads I made yesterday using an odd lot color I picked up from a friend who sells rods of glass.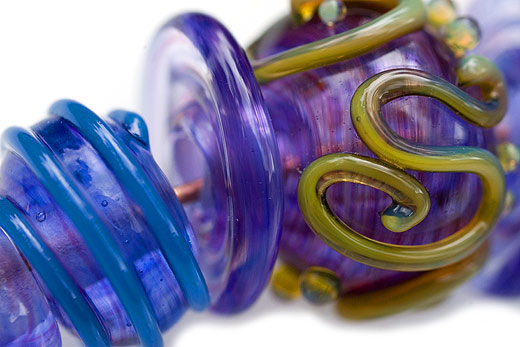 Water Fire (detail)