It's Monday. I got some auctions up on Justbeads, organic looking type beads that are super fun to make

Sand Pillows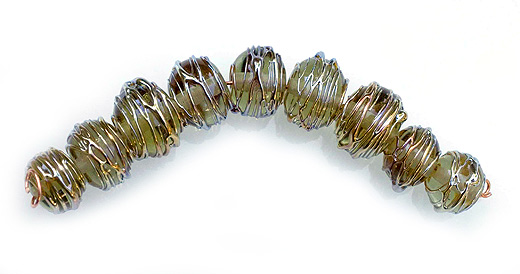 Rhubarb Spins
My first article is up at The Annealer Magazine. Check it out, it will be a monthly column!
It's hot today. I had both kilns going one with a second firing on an art piece, and the bead kiln. I have to make some earrings tonight to take to the roastery tomorrow.
YES! I got in a store. It's a small one, and only for a month, but if you find yourself on the Oregon Coast, check out Big Mountain Coffee Company, and see the display of my jewelry for sale!
I'm going to get a mailing list going for beads going on auction.
I will mail an email out the night before a set goes up, giving my customers first crack at a set before they are released to the wilds of Justbeads.com
If you are interested in being on that list, just email me (email is on the contact page) at juiceglass.com. That's beyond the montly newsletter which I have to send out this week with a contest item, as promised. Folks on my newsletter get automatically entered, dontchaknow.
In other news, I talked to Thomas today, and I will be going on tour in the fall with him. Having survived the Spring tour, I think this one will go way more smoothly. Mostly November and December, I will sure miss DLJ during that time…but I will keep my auctions going from the road!