I've been having issues with my right arm. From discussions with others, it sounds like Tennis Elbow, sort of. But its also up in my forearm. I thought it was lampworking, now I am not so sure. When I sleep, I curl up, all the way to my hands. My wrists bend in and I curl my hands towards my arms. My massage therapist told me to try to open up, but it is VERY hard. I have a body pillow I do not sleep with, DLJ and I share a queen bed and with three cats….well, it's already crowded. But I might try tonight if I can make it work, something to distract my hands from curling inwards. It hurts all the time to extend my arm out straight…not good. Opening jars is hard.
Yet I press on, because I must.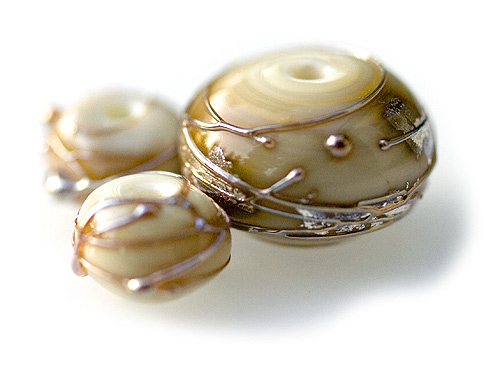 Golden Wheat
I leave Thursday for Boulder. Some of the airlines I am on have a place to donate money to offset ecological impacts of flying, but not all my flights do that. Is there a general place to do this for all flights? A way to give money to offset all this flying?
I feel hesitant about all the gas used in the tour bus as well, this December…but it will carry a bunch of us around at least….it sleeps 12.