Literally. I don't talk about stuff much, mostly because I try not to aquire it.
But there have been a few things in the past week that will add to my life, so they were worth the cost. And  I haven't updated anything vaguely substantial lately, have I.
Let's see. Well, the biggest one is, Friday I ordered myself a new torch.  A Lynx, something I have wanted for about two years now.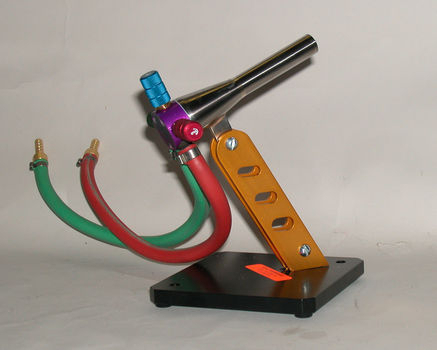 I didn't have the power for it, in terms of oxygen, until I connected two concentrators together. Now, I do. And since I have started doing a little work in boro, it made it timely. Boro can be done on a minor, but it is very slow.
Also, there will be new things I can do with the Lynx in terms of detail, which is great for some long term designs I have been mucking about with.
But the best thing, really…is with a little studio futzing…
I CAN NOW TEACH. I will have two torches, one for me, and one for a student, without having to get up and change places, etc. I am really jazzed about this. I LOVE glass and I LOVE sharing it with people. Now I really can, and they can really take lessons!
The torch should be here Monday. I will have a learning curve as I get used to the new power and heat, but I am really excited.
Second thing, I have been a "free" cel phone user for years, getting whatever phone comes free with a plan.  Last night, after complaining during the day that I can barely hear anyone on my old cel phone, he handed me a working iPhone that he got from a friend! It is a first generation, and hopefully we will get it activated tomorrow. We tried today, but while we were at the mall, the power went out in the entire place, and they got it halfway done over the phone. Being in a mall with no power is really strange! And leaving was really hard, since everyone was leaving, and the traffic lights all around were also out. Anyway, I have never gotten email on a phone, and I admit I have kind of liked that, being unaccessible…but, well, I guess we shall see.
And third, I treated myself to a large bottle of pear cognac. One of my favorite drinks is a kir royal, and with this pear cognac I can make a slight variation drink, champagne and the cognac. I had it at a restaurant last year and really loved it. Booze lasts a LONG time in this house, so this will be a gift I can enjoy all summer on those really hot days, if I have champagne around. I can do it with regular white wine too, but hey. Champagne just elevates it, literally, with those bubbles!
So that's my recent STUFF. What's yours?